The Sights of Kythira
Explore Kythira step by step!
The tourist guide for Kythira www.kithera.gr leads the way by presenting the largest production that has been made for the island to date. 21 villages, 33 beaches, 16 monuments, 8 natural areas, 6 hiking trails, 84 locations in total are shown, with lots of photos for each location, useful texts and facts, basic road distances, and access maps for each attraction.
This presentation is aimed at those who want to explore and learn as much as possible about the island. Not so well known villages are also included, but which deserve at least a virtual visit, which in the future we hope will become real. Also included are all the beaches, historical monuments, and natural sites that are definitely worth visiting.
Despite the completeness of this program, we will continue to enrich it with original material, exclusively of our own production. Have fun!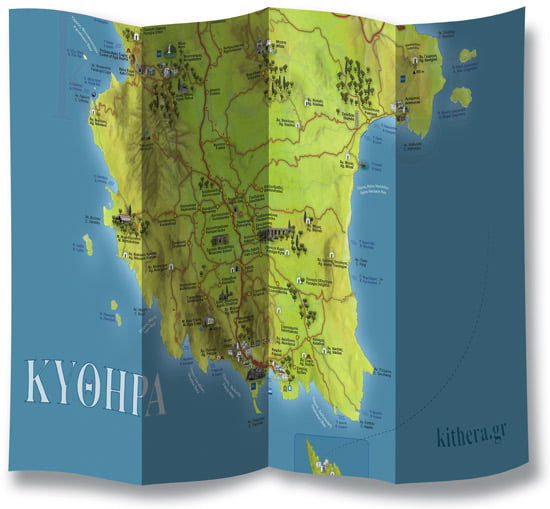 Discover Kythira with a guide a Map!
Tourist and Road map with all the locations of Kythira.
Includes marked hiking trails.
Marking with kilometer distances for all routes.
With realistic icons for all the attractions of the island.
High resolution and clarity for easy and comfortable reading.
Ideal for all devices, mobile phones, ipad, laptops, pc.
No internet connection required to access the map.